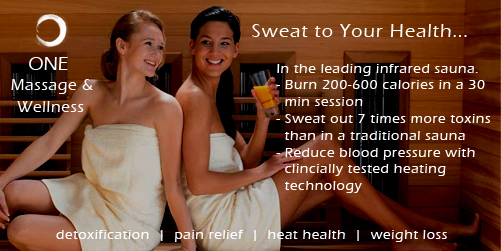 Far infrared waves from Finnleo Pure Saunas: 
Increase blood flow by promoting dilation (expansion) of the micro-circulatory system of capillaries
Reduce muscle spasms as muscle fibers are heated 
Remove toxins from the site receiving far infrared waves 
Assist in the reduction of swelling and inflammation by improving lymph flow 
Reduce soreness through direct action on both free nerve endings in tissues and on peripheral nerves
Assist with weight loss, pain relief, improved circulation, and skin rejuvenation
Price and package options:
30 min session $25/person, each additional guest for $10.
4 guests for $50.
Single person 6 sauna session package for $100.
Two persons 6 sauna session package for $150.